Facts
Company name: Swaper Platform Oü (registry no. 14726410)
HQ: Tallinn, Estonia
Founded: 2016 (orinally Swaper SIA in Latvia), moved to Estonia in 2019
Founder: Iveta Bruvele (Wandoo Finance Group founder and CEO)
Owner(s): Marina Tjulinova, also owns a piece of Wandoo Finance Group
Loan types: payday and short term
Maturity: 1 – 30 days, Denmark 4 months
Lainan lyhennys: kerralla
Average interst: 14% (+2% loyalty bonus when portfolio is minimum 5000€ for 3 months)
Currency: EUR, GBP
Minimum investment: 10€
Minimum deposit: 10€
Countries: Poland, Denmark, Spain (formerly also Georgia and Russia)
Buyback guarantee: Yes, 30 days
Secondary market: Yes
Auto invest: Yes
Loans funded: 154,2m€ all time, 20,2m€ last 90 days (30.4.2020)
Loan originators: Wandoo Finance Group and it's subsidiaries
Buyback guarantee
Swaper has 30 days buyback guarantee. If the loan is late for more than 30 days it will be purchased back by the loan originator and pays the principal and accrued interest.
Secondary market
You can put up the loan for sale if it's current. At least now there is no fee for selling a loan and you can't adjust discount/premium it's always at par so you get your principal back. These loans are mostly picked up by auto invest unless you have excluded them from your auto invest settings.
Risks
Even though buyback can make this seem very low risk it's not. There are always risks so I list here some scenarios that can happen however unlikely they are.
Swaper the marketplace can go bankrupt
Swaper wasn't profitable in the beginning just like any other marketplace but already in 2018 they managed to generate profit of 127 528 EUR (audited) and 2019 also profit of 361 998 EUR. Swaper hasn't published their financial reports yet but they've promised to publish them. I got the figures directly from them but you can check the numbers from Estonian and Latvian business registry (there's a small fee).
Wandoo Finance can go bankrupt
Wandoo Finance is responsible for the buyback so their stability has be also considered. Wandoo Finance is according to their own information profitable but market situation can always change. I'm not too worried about that since they've handled the COVID-19 situation very well. They've adapted their product offering to changing market situation and regulation. Such as providing longer loans in Denmark that has limited the interest rate that can be charged.
Swaper's loan agreement gives investor claim right to the borrower of the Wandoo loan so also the worst case has also been considered. That being said Wandoo leadership and staff has long finance background and they've shown they could handle the curve ball COVID-19 threw.
Default risk
Buyback protects you from this in normal situation however this risk can realise if Wandoo goes bankrupt and can't back their buyback promise.
Market risk
Anything can happen that shocks the market and causes problems. Wandoo Finance and Swaper has faced market risk with for example Georgia where regulation change suddenly. They exited Georgia gracefully and investors didn't lose any money. Now they are more ready for changes in Denmark and possible changes coming in Poland. COVID-19 has also showed that they can manage risk and thrive even in harder market conditions.
Registration
You can register to Swaper both as private person or company. Registration has four steps and it starts with you by giving your email and password.

Seconds step ask about the person or company representative information. Below is a capture of the form for company. For company you need company name and registration number other that the asked information is same as for private person. You'll need a passport or national id card number and expiration date. NOTE in the last step you'll need to provide a picture of the passport or id card.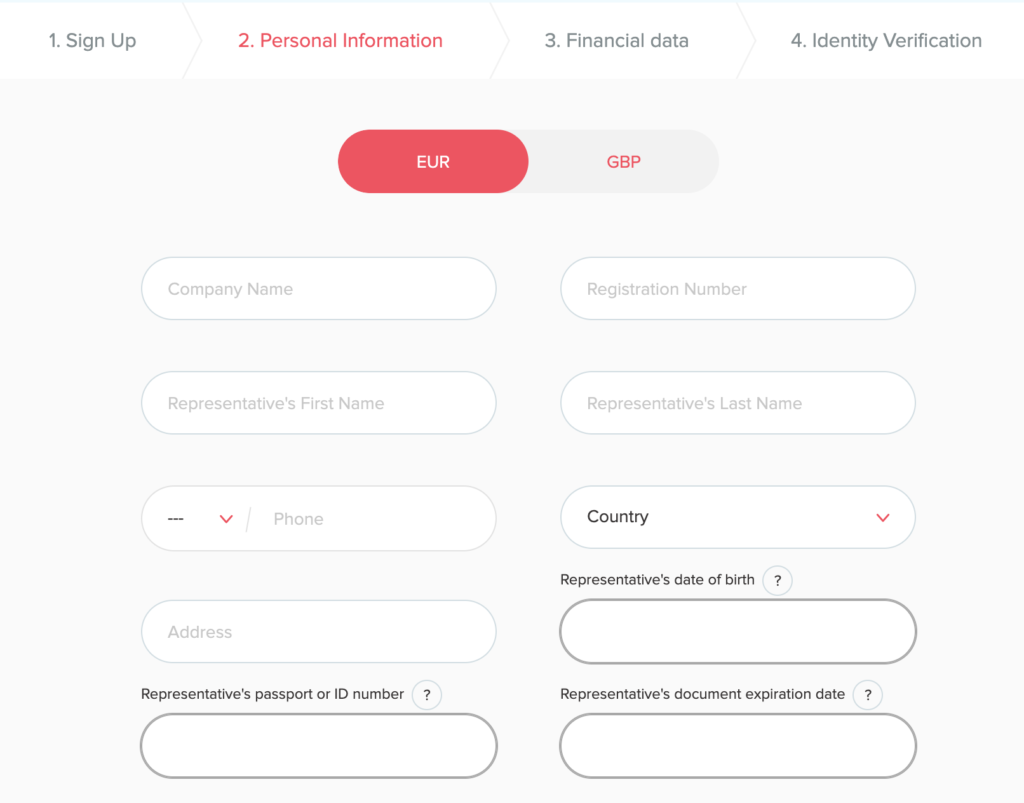 Step three asks where your money is from and if you are politically influential person so the basic AML/KYC questions even your bank asks.
Last step is identity verification. Here you'll need a picture of your passport information page or both sides of your id card depending which ones number your gave on step #2. Additionally you need proof of address. For that you can use electric or other utility bill, bank statement or letter from tax authority that is less than 3 months old. Company also needs an english language extract from business registry. You can postpone this last step but you can't deposit cash until it's completed and verified.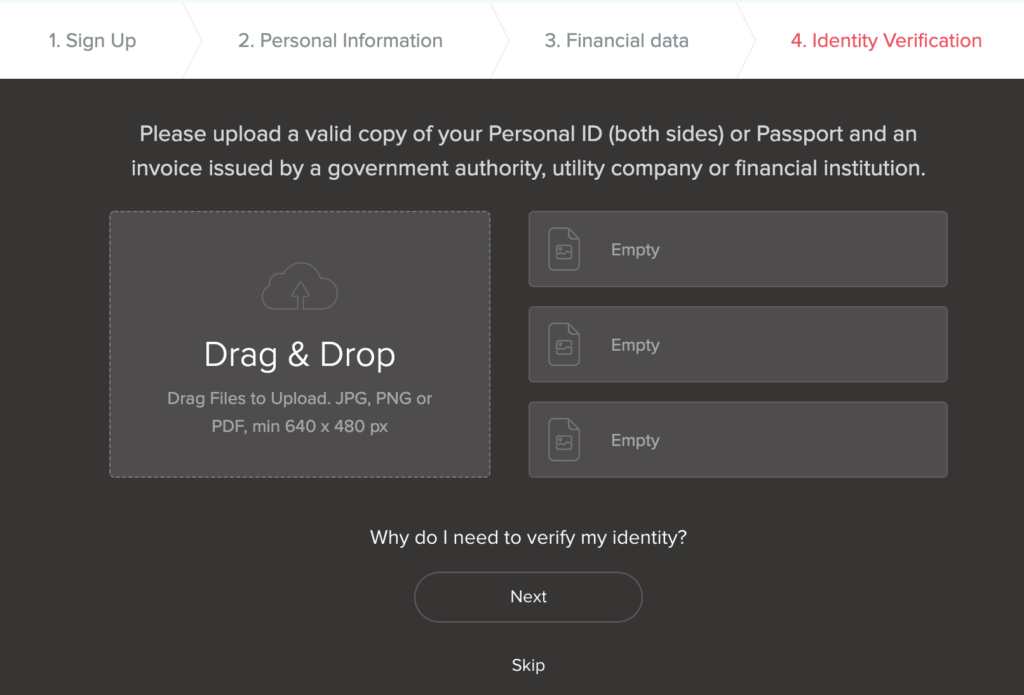 Reports and statistics

In Swaper you can see quite clearly what's your account value and how much you have earned. You can also export reports for tax or bookkeeping purposes. You can dowload also a summary report from specific date range. The reports are under My Profile under Income Statement.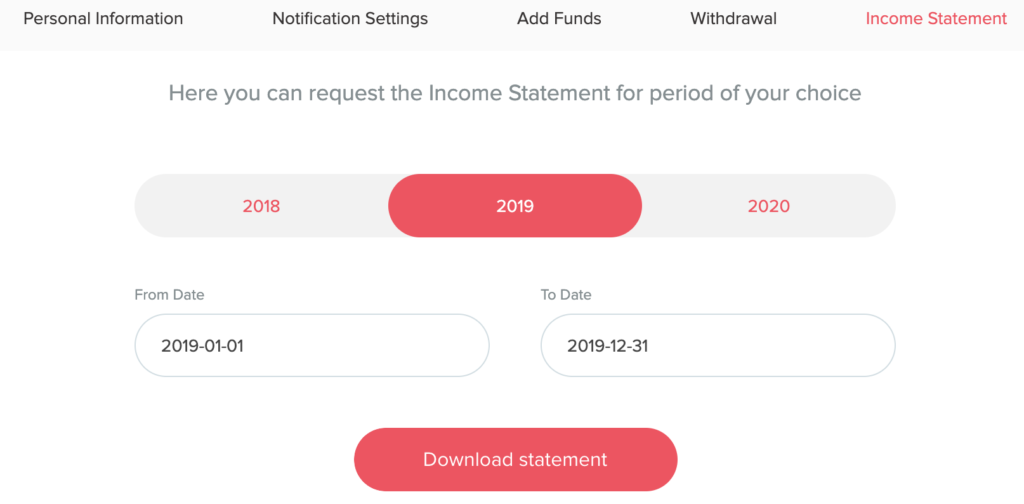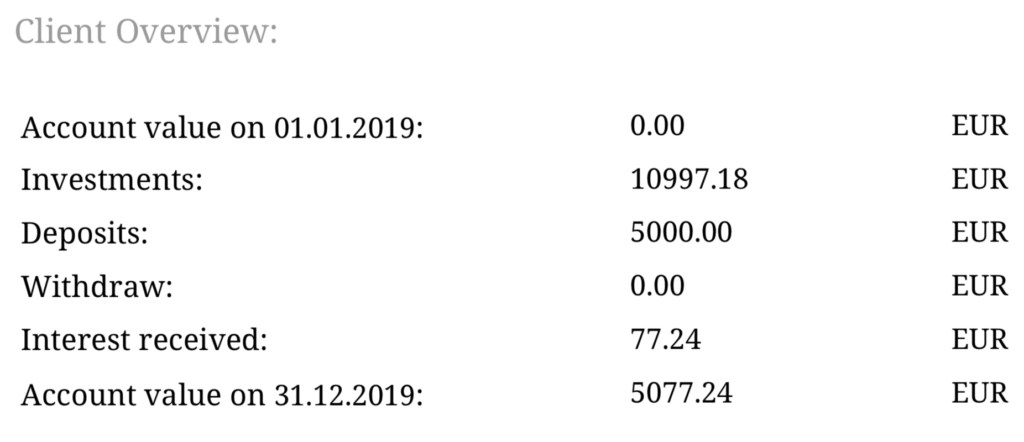 Under My Investments you'll find your current and past investments. You can also sell your loans from here.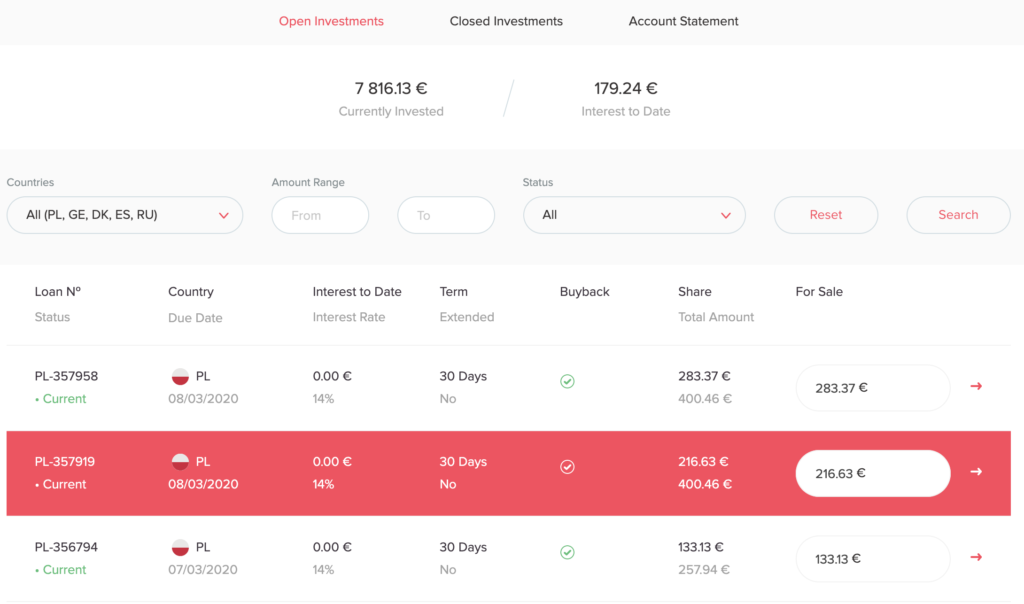 Under My Investments you can also find your Account Statement. You can export transactions from the selected range for your own tracking or further analysis on Excel.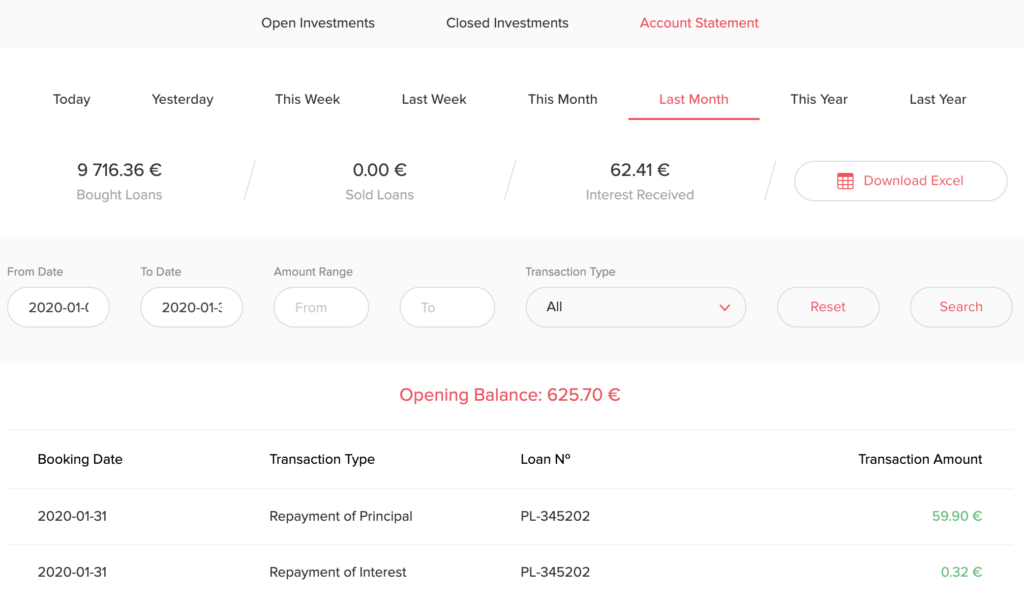 Loyalty program
Swaper rewards investors that have made a minimum 5000€ investment for at least 3 months with an additional +2% interest so you can earn up to 16% annual interest. The loyalty bonus is paid as higher interest for the loan. That is pretty good rate for short term loans. The account balance must stay above 5000€ for you to qualify for the loyalty bonus interest.
Auto-invest
You can invest either manually or by creating auto-invest portfolio. When I started there was a shortage of loans so auto-invest was the only way to go. In any case I don't see the point of using manual loan selection as there's not really any information for you to pick and choose less risky loans. So I recommend you setup an auto-invest portfolio.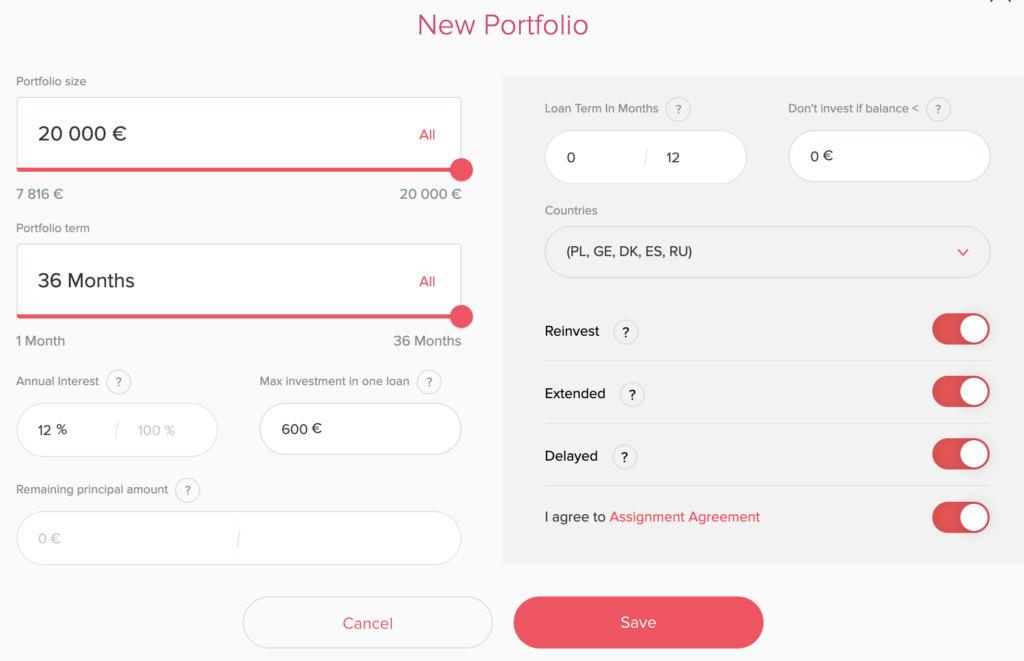 Below is a short explanation of auto-invest settings. The defaults are pretty good so you don't necessarily need to touch them. Auto-invest can also invest automatically in loans other investors are selling.
Portfolio size: Maximum size of the porfolio. I'll typically double the capital I intend to invest so the limit won't exceed so easily. When the limit is full it won't invest until some of the old loans are paid off.
Portfolio term: This is weird setting since when that term is reached it won't invest again. It might come in handy if you have some time specific goal but I'd rather be able to have it reinvest indefinitely.
Annual interest: Swaper has only one standard rate so you can set this to what ever is the current rate. You should also count in loyalty bonus so you get the highest rate.
Maximum investment in one loan: Like the name says maximum investment per loan. When the cashdrag was high I had this set pretty high so I would get maximum amount of loans as they have pretty equal risk.
Remaining principal amount: This defines the minimum amount of loan principal there has to be to invest in a loan. I leave this to zero as I don't really care that much how small the loan is.
Loan term in months: This is maximum term you want the loan to have. Most are 1 month but there are some 4 month loans also. I've just set it 12 months as I'm willing to take also longer loans.
Don't invest if balance <: This is the minimum cash balance on account. This is useful if you want to withdraw the proceeds of your investments every month. I keep this as zero for now to reinvest everything.
Countries:

Enable countries

where you want to invest
Reinvest: When this is enabled the proceeds are reinvested into new loans.
Extended: The borrower can extend loan for 30 days. When this is enabled you also invest in extended loans.
Delayed: Loan can be delayed. Swaper pays interest also on delayed loans and I believe in Wandoo Finance so I haven't limited these out from my portfolio.
My experiences with Swaper
Before I invested in Swaper I did through checks on both Swaper and Wandoo Finance Group. To my surprise many bloggers are actually spreading false information. Swaper started in Latvia as Swaper SIA and it was founded by Iveta Bruvele who is also the founder and CEO of Wandoo Finance Group. Swaper moved to Estonia in 2019 under Swaper Platform Oü and then the owner also changed to Marina Tjulinova who also is beneficial owner of Wandoo Finance Group. Despite claims of bloggers the registry information shows that Wandoo Finance Group doesn't own Swaper nor is Iveta it's CEO. I've confirmed this information from Wandoo Finance and Swaper.
However they have close co-operation and Swaper operates from the same office as Wandoo Finance in Riga Latvia. Swaper also has office in Tallinn Estonia where they are registered and according to them they also have some staff there. The public face of Swaper is Danija Misus who work as the Swaper product owner. There isn't much information about the current owner Marina but at least she is now listed as part of Swaper team on their website.
I asked them quite a few questions to get a good picture on how they operate and how they care about customer data and investor money. It all sounds good and professional. The servers are on Google cloud and customer information is stored encrypted. Using a cloud platform like Google makes that much easier task that when doing a self hosted solution. Investor funds are stored on Swaper Platform Oü managed segregated customer funds account as they should.
I started investing in Swaper on October 2019 when they still had huge cashdrag issues. They've continued to impress me and they've handled the whole COVID-19 situation very well. As a result I'm convinced that they know how to properly manage risk.