I've been on the Crypto.com ecosystem since 2019 and ordered my card back then. Since I'm located in Europe I got it in June 2020 when they began rolling it there. So I waited mine for over a year but I think it was worth it even though due to Covid19 I haven't been able to take advantage of all the perks of the card. I have the Royal Indigot card which gives me 3% cashback on almost all of my purchases, it reimpurses me for my Netflix and Spotify subscription fee and gives me unlimited LoungeKey airport lounge access without a monthly or yearly fee.
In this post I've gathered all the relevant information about the card as well as my own experiences with the card. The card is available pretty much world wide by now or in the near future as they are onboarding more regions when they get their licenses and other regulatory stuff sorted. I try to keep this post up to date as best as I can as well as add new sections.
First their short ad so you can get a feeling what it is.
What is Crypto.com
Crypto.com was originally named Monaco which came from their MCO token. The MCO token ICOed in summer of 2017 collecting over 25 million euros. One year after they rebranded to Monaco to Crypto.com which better support their mission to bring crypto currencies to everyones wallet. Their Visa Debit card is just one but very important part of their ecosystem.
The crypto.com wallet fiat currencies such as Euro, USD etc are held in your name under a bank account separate from crypto.com operational funds. To my knowledge they are not under depository insurance scheme such as FDIC or it's European counter parts. The team behind Crypto.com is very experienced and their names and faces can be found on their website. Compliance is at the core of Crypto.com which is why it takes them longer to launch in new region but after they launch they won't have regulatory issues. Some parts of the ecosystem is not available in USA like the crypto exchange at the moment due to regulation.
Visa Debit card
The Visa Debit card works like a prepaid card. You load it with currency and it does not currently have any credit feature. You can also load it with crypto currency but those are immediately converted to fiat currency. Everything works from the Crypto.com app.
There's 5 cards that each have their own perks and depending on which card you want you need to stake a certain amount of their native CRO token. The token is then locked for 180 days after which you can unstake it. If you continue to keep it staked you earn higher rewards but you still keep some rewards even if you unstake it sell the CRO.
Starting from Royal Indigot level they pay you 10% interest in your staked CRO. Since the value CRO fluctuates they fixed the amount in your local currency instead of CRO. Ruby steel which is the first paid level is 350€ or $400USD and it goes up from there by multiple of 10. The higher level ones are really expensive and exclusive.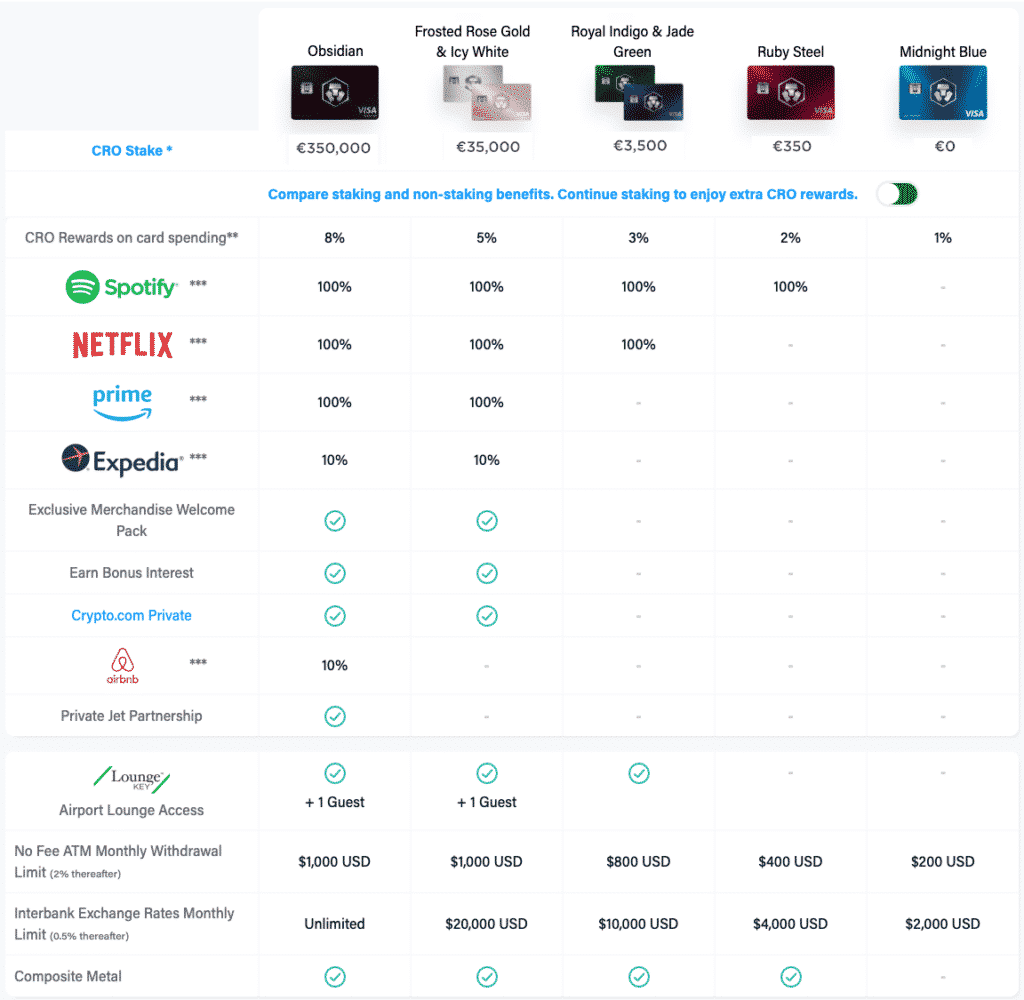 So if after 180 days you don't want to keep your CRO staked and want to sell it your perks if go down. Below is an image to show the rewards levels without CRO stake. Personally I keep my CRO staked and enjoy the extra 10% APY on my CRO as well as all the other perks. Over time it pays for itself and you can still unstake at anytime and sell your CRO at what ever price it is at that time. I think over time it will appreciate significantly but you have to take into consideration it will follow the crypto cycles and might also be worth less than you paid.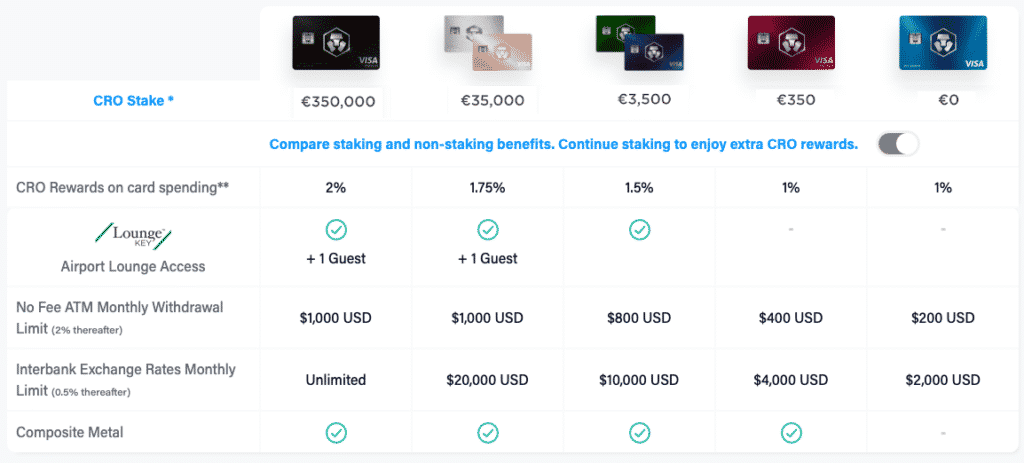 Cashback
For us Finns cashback is pretty new concept as most cards won't give you cashback and only with some you can collect points but for my American friends this is pretty much the norm to get cashback. The cashback with this card is paid in CRO token and it happens pretty much instantly after the transaction goes through. You get cashback from pretty much all your purchases but there are some restrictions which you can find here.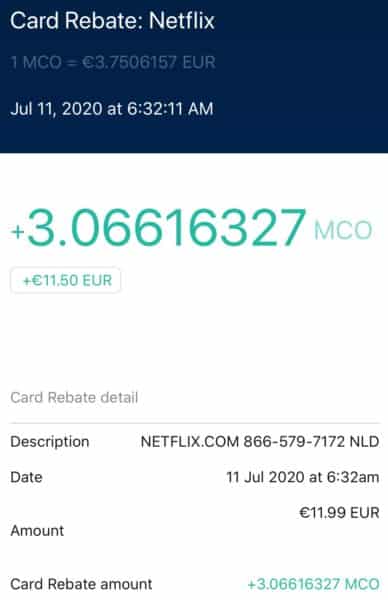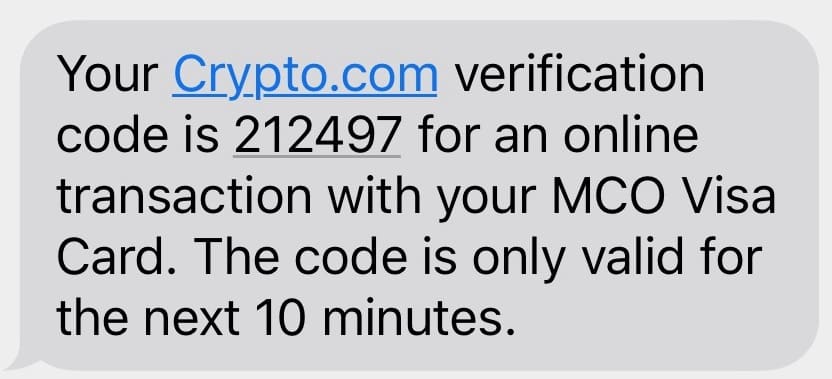 Apple Pay and Google Pay
Apple Pay nor Google Pay are currently not supported in Europe but are in USA. There's a work around for this called Curve and I've been using that successfully from the beginning. In addition to Crypto.com cashback you'll also get Curve cashback and their 100 000€ purchase protection so that is a winning combination. I'll post a separate review on Curve but until then use this registration link to get 30 days of 1% cashback on all Curve purchases.
Taxation
Most likely you will have to pay taxes and your crypto transactions but that depends widely on your location. In Finland the cashback itself is not taxable but any gains you get after are. I use Koinly to prepare my crypto tax reports. It's really invaluable help and you should start updating it with your crypto transaction as soon as you start getting them. It's really pain to do afterwards. Koinly supports generating report to many different countries including USA and Finland.
If you are in Finland you can mark you CRO cashback transactions as deposits then Koinly will calculate any gains you've gotten on them but not count the cashback itself as income.
My experiences
I've been using the card for over a year now and mainly quite happy with it and even their customer service response times even though they've had some growing pains due to rapid user base growth. The only gripe I really have is that you don't get cashback from automated gas pumps anymore. They had some issues with it so instead of fixing it they just excluded it. You still get cashback if you pay inside the station but those are quite rare where I'm located and the ones I use are unmanned stations.
I've used the Crypto.com ecosystem quite extensively and and have been quite lucky to get huge CRO rewards. I used some of those to get the Royal Indigot card for my wife as well so we can both enjoy free lounge when we travel. What I wish is that Crypto.com would offer add-ons like insurance for the card but so far I'm been happy to use Curve and get similar protection as with a credit card. In fact I dropped my Amex in favor of Curve.
Registration bonus code
Crypto.com give you $25USD worth of CRO token if you register with my referral code JR3FCPVP60 or using this link. To qualify for the bonus you need to stake enough CRO to get the Ruby card or better.