May was pretty great for a change. I earned 2335,88€ in dividends and interest and my stock portfolio went back to green territory. I was also issued my Crypto.com MCO Visa debit card after long wait.
Portfolio composition
My portfolio is composed mainly of investment properties, stocks and P2P loans. My target is to have about third of my portfolio in loans and currently they are solely on P2P loans and I don't have any traditional bonds. My target allocation for cryptos, gold & silver is 5 – 10% so I could increase exposure on those.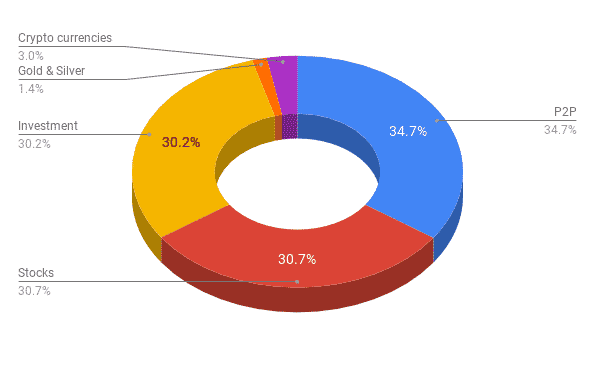 Stocks
Osakesalkku tuotti vuoden alusta -12,01% ja salkun historian annualisoitu tuotto 1,55% ja absoluuttisesti salkkun tuotto on 3,67%. Eli ollaan takaisin positiivisen puolella. Tuona samana aikana indeksit on tuottanut seuraavasti: MSCI World 4,21% ja OMX HEX 25 3,32%.
Buys
Xtrackers Euro STOXX 50 UCITS ETF (DXET)
iShares Core MSCI World UCITS ETF (EUNL)
Fortum (FORTUM)
In May I increased my position in Fortum and at the time of writing this it's 20% up already. Also got some ETFs that are on my monthly ETF savings plan.
Dividends
Apple (AAPL) 12,14€
DHT Holding (DHT) 447,24€
Energy Transfer (ET) 195,00€
Fortum (FORTUM) 330,00€
Prospect Capital (PSEC) 54,96€
Raisio (RAIVV) 176,80€
In may I received 1 216,14€ dividends and that makes the years total 2 798,77€.
I started my current stock portfolio in February 2015 and to date I've invested 116 000€ into it. It's current value is 123 958,41€ out of which 3 697,74€ is loan. I can draw up to 100 000€ of loan against my stock portfolio. The loan starts at 0,99% if my portfolio is well diversified and LTV is low. Since the beginning I've received 14 992,05€ dividends.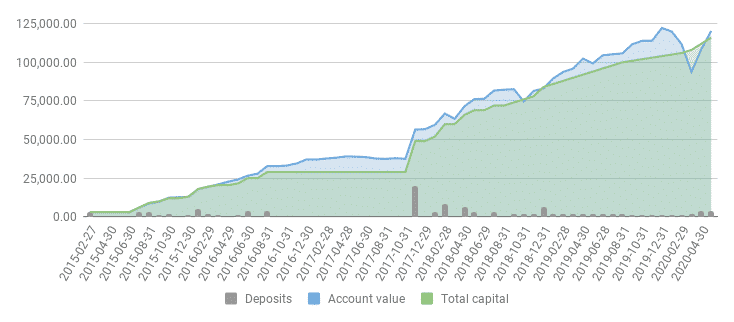 P2P Lending
Interest payments got back to more normal numbers and I received 1 119,74€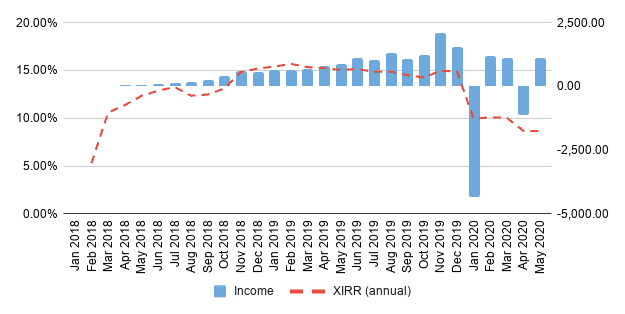 Currently I have 128 575,39€ invested capital and total value is 140 121,44€ out of that 36 978,74€ are in danger of being lost due to fraud or default. Currently I'm part of three law suites and fourth is starting. Currently it looks like not everything will be lost but it's going to be long and rocky road to get anything back.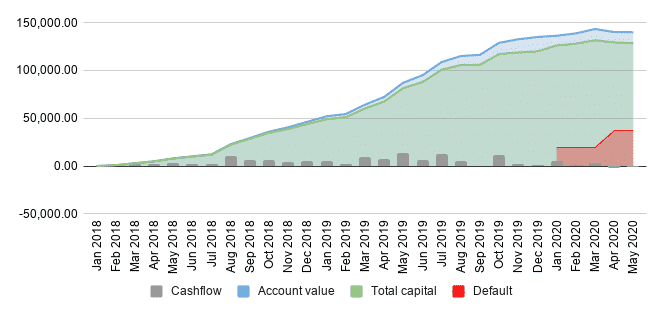 In May I didn't increase capital and mostly withdrew from my personal portfolio.
Investments divided between platforms and loan types. It includes capital invested in fraudulent platforms.
Short Platform Update
I ran a test on Bondora Go & Grow and as the last part I tested it's liquidity. I withdrew my whole 500€ G&G portfolio on 30.3. At that time they had already moved to partial withdrawals to protect liquidity so I've been getting they money in small chunks. At the end of May there was still about 35€ left to withdraw but every weekday I've been getting some money. On June 10th the withdrawal completed and I also withdrew the accrued interest which was paid immediately.
Reinvest24 finally sold the Majaka 54 apartment I had invested in so I got some profit out of that. Right now I am waiting for the rented apartment to be also sold. Reinvest24 is too illiquid for me since it still is missing secondary market which was supposed to be out already a year ago. In the future I will not invest directly to Reinvest24 but rather through EvoEstate where I have more investments including a Reinvest24 property.
Lendermarket introduced loan extension feature in to the platform so it better reflects the real status of the underlying loans. Quite a few people weren't happy when many of the lower interest rate loans, that were according to the platform at the point of buyback to be triggered were extended instead. But in June they compensated the difference between the current loans as those that were extended to investors. That was really good move because a lot of people are sick and tired of retroactive changes to loans. My XIRR went all the way up to 15,48% in May due to interest being paid on extended loans and also got a bonus from cashback campaign. I expect June to show good numbers also.
Swaper has worked quite consistently through out the COVID-19 situation and they've shown good risk management. Even though they've issued less loans there hasn't been shortage of loans. I must say I really like Swaper and how they've kept investors up to date. They are running a +2% cashback campaign until 4.7.2020. The bonus will be paid on 17.7.2020. Also check out my detailed review of Swaper.
PeerBerry has been one of my favourites for a long time. It runs pretty much on autopilot and the return is quite consistent. There's also no surprises like there is in Mintos. I also recently learned that both PeerBerry and Aventus Group (the largest LO in PB) CEOs both invest on PeerBerry. That just shows that they have skin in the game also which I find very good. PeerBerry has also grown in volumes as the number two platform on continental Europe. Even though it doesn't have secondary market I find it quite liquid due to short term loans. My long term XIRR on PeerBerry is just under that of Mintos and that is not even counting the possible loss from all the defaulted LOs on Mintos.
The whole COVID-19 situation impacted Mintos investor majorly in both good and bad. On one had there was greatly discounted loans from solid loan originators and many turned out not so solid which could have been a surprise if you trust Mintos ratings. But if you follow ExploreP2P Mintos ratings only Varks really surprised people. This has also revealed that group guarantee, loan agreements and buyback agreement doesn't really matter because Mintos does what it wants and suits it best be that unilateral and retroactive changes to agreements like activating extensions on loans that didn't have it or ignoring group guarantees because forcing the group to honour buybacks would probably tumble the largest loan originators and with it take the whole platform. On top of that Mintos has accounting issues and constant software glitches that involve peoples money. Then there's pending payments and how different loan originators are given way more leeway as other non Mintos related ones are suspended quite fast.
EvoEstate hasn't had any skin in the game projects in a few months because they've been careful and I really like that. I only invest in the skin in the game projects. I had planned to start expanding my real estate portfolio using P2P but right now I'm careful and looking how the market reacts because if the crisis continues there will be some great opportunities the only question is are they available here I hope they are.
I have few investments in Bulkestate and they've been paid on time. I'm right now not adding anything new here but will continue to monitor for good deals .
Crowdestor hasn't paid anything since March because of the recovery period they granted all the businesses. If the business is viable then it makes sense to be flexible as bankruptcy you might not get your money back let alone get any interest. Many projects will restart payments in June/July and only few have been granted extra recovery period. Crowdestor also ran an equity campaign as they are developing the platform further and have quite ambitious plans. I don't know how Janis manages to do it all on top of his own projects that he is funding also through Crowdestor. I really want to invest in some of the projects but at the same time I don't want to increase my exposure to Crowdestor as it's already quite high.
Estateguru is runnign an equity campaign on Seedrs* and I took part of it with a small stake so I'll become Estateguru shareholder. I have some other private equity investments and this will be a good addition. They have also great ambitions so I'm looking forward to seeing them achieve them. I currently don't have any loans on Estateguru but before the whole COVID-19 situation I was planning to add them. Now it's just pushed furher as I look what happens. *Registering to Seedrs we can both get £25 towards our future investments.
Kuetzal, Envestio, Monethera and Grupeer
Yes, I sadly invested in all of them. Kuetzal and Envestio both have been declared bankrupt and have trustee going over their assets and trying to find where the money went. Monethera has bankruptcy petition submitted to court and all three of those platforms have been linked together. The last one is Grupeer which will also have legal case being initiated. I'm participating in all of them because I want support the legal cases and hopefully recover at least some of the money. Also getting legal representation with fraction of what it would cost me to do on my own is just plain smart.
Cryptos
I started investing in cryptos about 18 months ago and once I reached my target level I've been pretty passive. My current gains are just over 30% so nothing amazing but I'm hodling for the long term. One thing a did already a year ago is get stake MCO to get the Crypto.com MCO Visa debit card and it has just arrived. It works like a prepaid card and what is great is you get cashback on every purchase. I have the Royal Indigo card so I get 3% cashback plus "free" Netfix and Spotify (they reimburse that as MCO). Since I have MCO stacked I also get pretty good rates on their crypto earn and I have some of my crypto there to earn interest rest is in my Ledger Nano X hardware wallet.
If you are interested in getting the Crypto.com MCO Visa debit card sign up here using my code JR3FCPVP60 and we'll both get $50USD worth MCO when you stack at least 50MCO for the card. That'll get you the Ruby Red card with 2% cashback and "free" Spotify.